The Most Profitable Forex Advisors 2019
By Payment Methods
By Trading Platforms
By Broker Type
Written by experienced traders and professional market analysts, our Forex technical analysis is just what you need to get an edge in your Forex trading
Advertisement
Pound Sterling Price News and Forecast: GBP/USD recovery moves aim for short-term horizontal resistance
Written by By FXStreet Team | 2020-03-26 03:20:13 GMT
Live - Short Term Signals
GBP/USD Price Analysis: Recovery moves aim for short-term horizontal resistance
While extending its recent recovery, GBP/USD marks 1.1870 as a quote, down 0.07%, amid the Asian session on Thursday. In doing so, the pair inches closer to the short-term horizontal resistance amid the bullish MACD conditions.
In addition to 1.1975-1.2000 horizontal area, 100-bar SMA near 1.2335 and 61.8% Fibonacci retracement level of the current month's fall, around 1.2520, could also challenge the buyers during the further upside.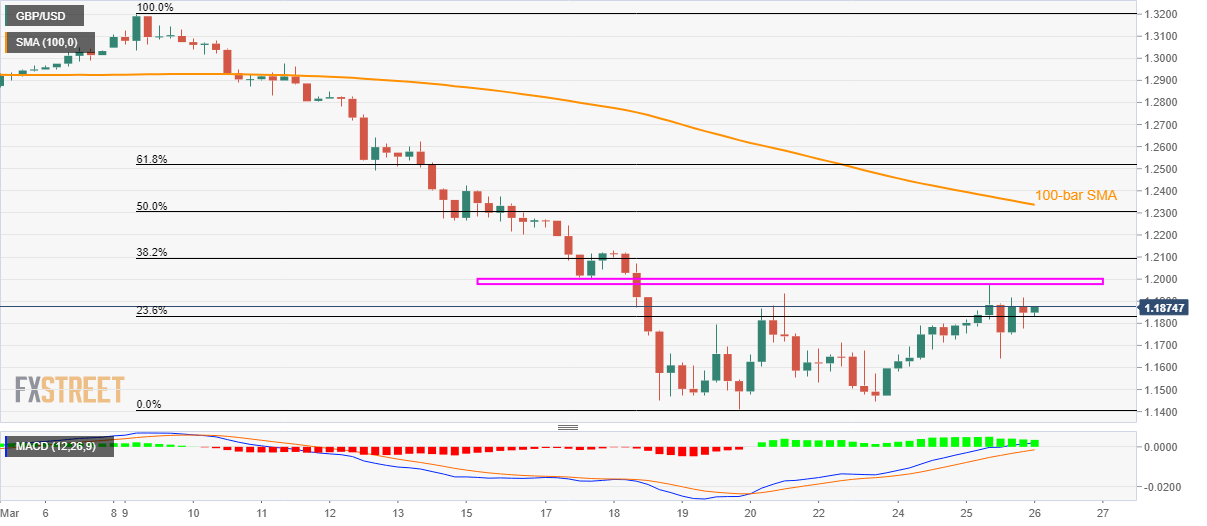 GBP/USD Forecast: Pound welcomed UK government's measures
The GBP/USD pair was quite volatile, trading between 1.1638 and 1.1973, this last an over one-week high. The Sterling was backed by risk appetite, also supported by the UK´s decision to change its stance toward the coronavirus, announcing tougher measures, including a lockdown of the country. The pair fell to the mentioned low as the greenback temporarily recovered its poise, amid US equities trading in the red ahead of the opening.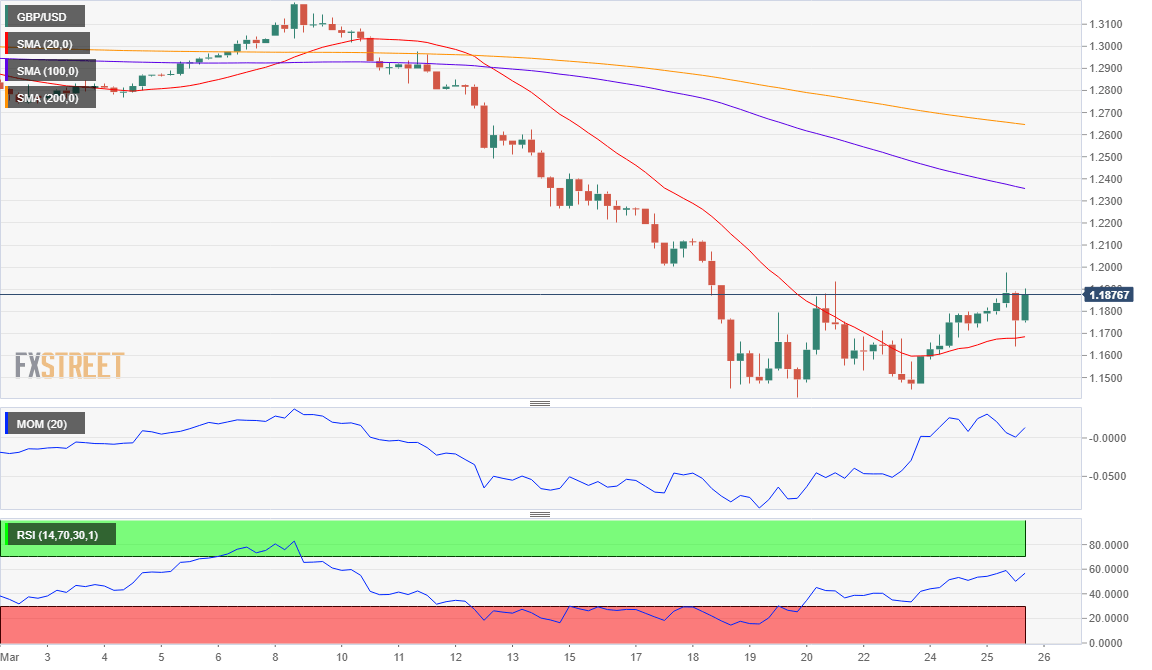 Author
By FXStreet Team
Trade With A Regulated Broker
Broker
Profile
Open Account
Minimum Deposit: 1 USD
Leverage of up to 1:2000
Broker Type : STP
Regulation : CySEC, 178/12 IFSA (St. Vincent and Grenadines), 21927 (IBC 2014)
Minimum Deposit: 5 USD
Leverage of up to 1:30
Leverage applies to all EU regulated entities of the group. Leverage depends on the financial instrument traded.
Broker Type : Market Maker
Regulation : CySEC,ASIC ,FCA
Minimum Deposit: 1 USD
Leverage of up to 1:1000
Broker Type : STP
Regulation : RAFMM
Offer: 30USD No Deposit Bonus
Minimum Deposit: 25 USD
Leverage of up to 1:500
Broker Type : ECN/STP & STP
Regulation : FSA SD008
Offer: 50% Deposit Bonus
Minimum Deposit: 50 USD
Leverage of up to 1:500
Broker Type : ECN/STP & STP
Regulation : FCA (UK), 679306 IFSA (St. Vincent and Grenadines), 19776 IBC 2011
Offer: 100% Deposit Bonus
Minimum Deposit: 50 USD
Leverage of up to 1:500
Broker Type : ECN/STP & STP
Regulation : CySEC, 183/12 FSC (Mauritius), 094286
The Best Crypto to Crypto
Exchanger
Advantages
Open Account
Safety Stability: Multi-tier & multi-cluster system architecture
Binance charges a quite low commission fee
Multiple-Coin Support : BTC, ETH, LTC, BNB...
High Liquidity
Multiple-Language Support
Instant cryptocurrency exchange
More than 500,000 satisfied users
Changelly charges a quite low commission fee
Safety Stability
Bitmex - Bitcoin Mercantile Exchange is a cryptocurrency derivatives trading platform.
Bitmex charges a quite low commission fee
Safety Stability
Best Brokers to Trade Crypto
Broker
Profile
Open Account
Minimum Deposit: 50 USD
Leverage of up to 1:500
Broker Type : STP/ECN
Regulation : FCA (UK), 679306 IFSA (St. Vincent and Grenadines), 19776 IBC 2011
Offer: 30 USD No Deposit Bonus - 50% Deposit Bonus
Minimum Deposit: 5 USD
Leverage of up to 1:500
Broker Type : Market Maker
Regulation : CySEC,ASIC ,FCA
Offer: 50USD No Deposit Bonus
Offer: 100% Deposit Bonus
Minimum Deposit: 1 USD
Leverage of up to 1:500
Broker Type : Market Maker
Regulation : CRFIN (Russia), 009069697 IFSC (Belize), IFSC/60/230/TS/12
Contact us
fxvnpro@gmail.com