The Most Profitable Forex Advisors 2019
By Payment Methods
By Trading Platforms
By Broker Type
Written by experienced traders and professional market analysts, our Forex technical analysis is just what you need to get an edge in your Forex trading
Advertisement
AUD/USD technical analysis: Choppy price action of late - price may now be breaking lower
Written by By Rajan Dhall, MSTA | 2019-11-08 10:19:28 GMT
Live - Short Term Signals
Price action in AUD/USD has been very choppy of late.
Now it looks like the price might break the support level.
AUD/USD has been stronger lately due to the improved trade outlook helping China.
If China becomes stronger then AUD normally does due to the fact that the Chinese purchase commodities from the Australians.
Therefore the copper and iron ore price becomes important to AUD and both have been rallying recently.
Daily Chart
The support level to watch out for is 0.6861. The price got there recently but then swiftly pulled back up.
On the topside, you can seel there has been tests higher over the last seven sessions but they have all failed to break 0.6929 despite the positive trade war sentiment.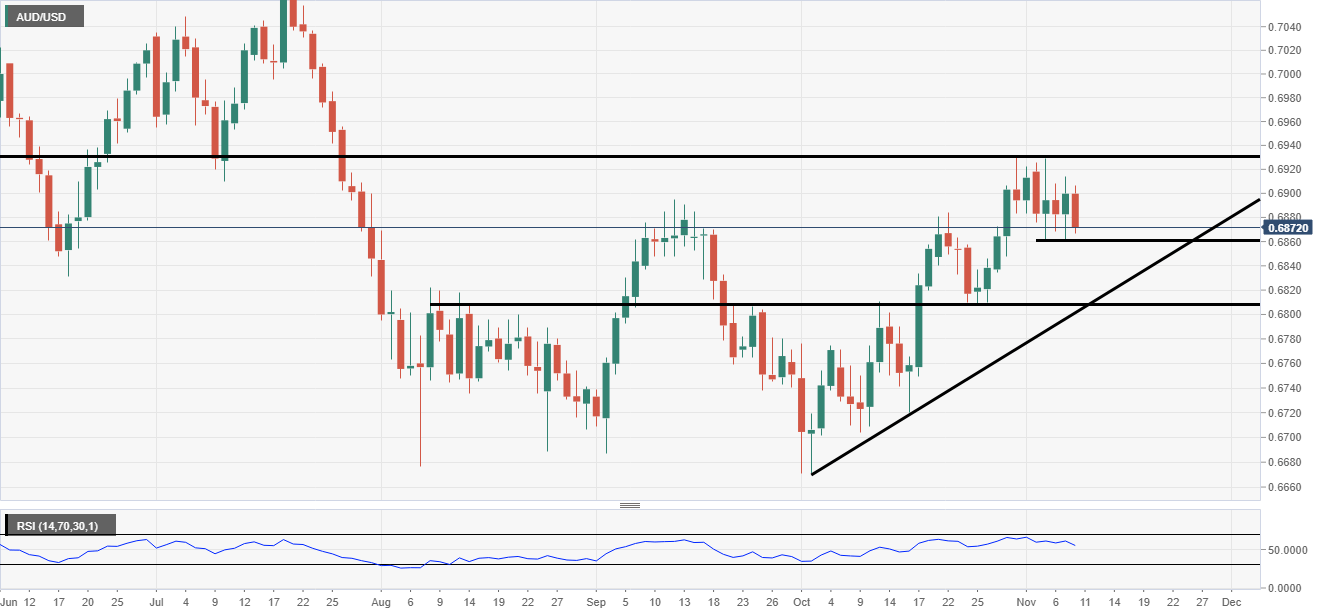 1-hour Close Up
On the hourly chart you can see a close up of all the tests higher. More recently you can see some lower highs have been created.
Now the support level on the downside becomes even more important as if it breaks a lower high lower low formation will be completed.
If there is to be some positive trade headlines that push commodities higher this afternoon the move may reverse.
For now look to see how price reacts at the lower support zones.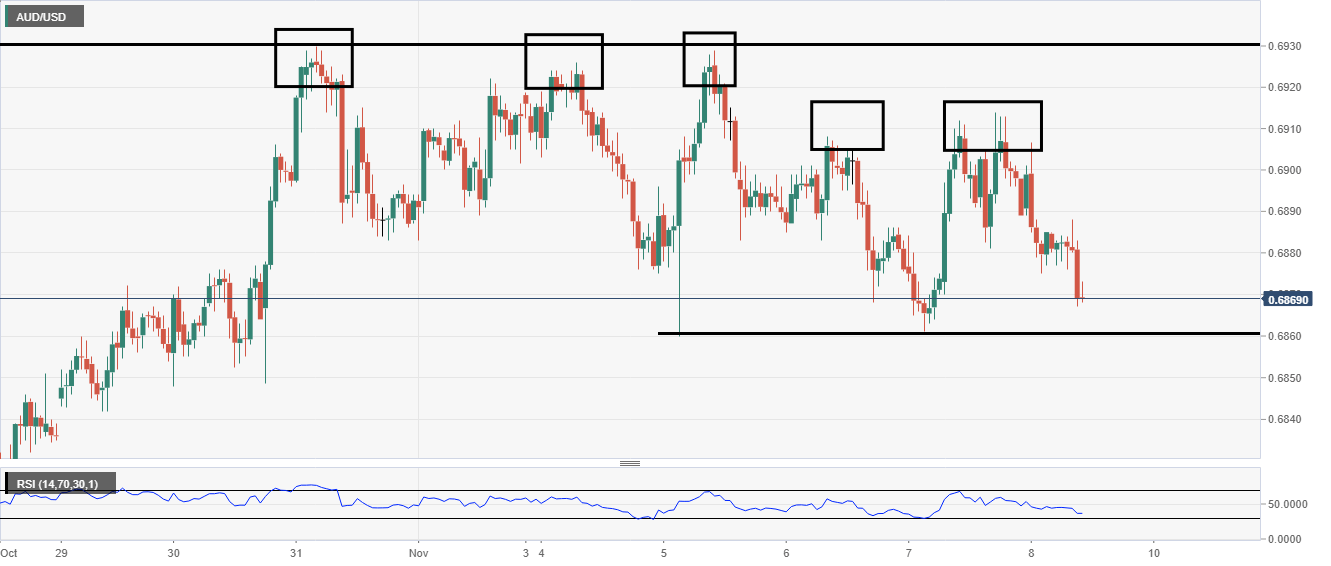 Author
By Rajan Dhall, MSTA
Trade With A Regulated Broker
Broker
Profile
Open Account
Minimum Deposit: 1 USD
Leverage of up to 1:2000
Broker Type : STP
Regulation : CySEC, 178/12 IFSA (St. Vincent and Grenadines), 21927 (IBC 2014)
Minimum Deposit: 5 USD
Leverage of up to 1:30
Leverage applies to all EU regulated entities of the group. Leverage depends on the financial instrument traded.
Broker Type : Market Maker
Regulation : CySEC,ASIC ,FCA
Minimum Deposit: 1 USD
Leverage of up to 1:1000
Broker Type : STP
Regulation : RAFMM
Offer: 30USD No Deposit Bonus
Minimum Deposit: 25 USD
Leverage of up to 1:500
Broker Type : ECN/STP & STP
Regulation : FSA SD008
Offer: 50% Deposit Bonus
Minimum Deposit: 50 USD
Leverage of up to 1:500
Broker Type : ECN/STP & STP
Regulation : FCA (UK), 679306 IFSA (St. Vincent and Grenadines), 19776 IBC 2011
Offer: 100% Deposit Bonus
Minimum Deposit: 50 USD
Leverage of up to 1:500
Broker Type : ECN/STP & STP
Regulation : CySEC, 183/12 FSC (Mauritius), 094286
The Best Crypto to Crypto
Exchanger
Advantages
Open Account
Safety Stability: Multi-tier & multi-cluster system architecture
Binance charges a quite low commission fee
Multiple-Coin Support : BTC, ETH, LTC, BNB...
High Liquidity
Multiple-Language Support
Instant cryptocurrency exchange
More than 500,000 satisfied users
Changelly charges a quite low commission fee
Safety Stability
Bitmex - Bitcoin Mercantile Exchange is a cryptocurrency derivatives trading platform.
Bitmex charges a quite low commission fee
Safety Stability
Best Brokers to Trade Crypto
Broker
Profile
Open Account
Minimum Deposit: 50 USD
Leverage of up to 1:500
Broker Type : STP/ECN
Regulation : FCA (UK), 679306 IFSA (St. Vincent and Grenadines), 19776 IBC 2011
Offer: 30 USD No Deposit Bonus - 50% Deposit Bonus
Minimum Deposit: 5 USD
Leverage of up to 1:500
Broker Type : Market Maker
Regulation : CySEC,ASIC ,FCA
Offer: 50USD No Deposit Bonus
Offer: 100% Deposit Bonus
Minimum Deposit: 1 USD
Leverage of up to 1:500
Broker Type : Market Maker
Regulation : CRFIN (Russia), 009069697 IFSC (Belize), IFSC/60/230/TS/12
Contact us
fxvnpro@gmail.com